Information offers and counselling
You can find all study-related information about accessibly studying on the subpages of the Accessible studying website. For additional information about accessibility at the University of Vienna, please visit the websites about accessible teaching as well as the accessibility portal.
In addition, the University offers a range of information events.
Counselling for students with impairments
Contact the Accessible Studying Team if you have questions about accessible studying. The team offers counselling via e-mail and telephone as well as in person. Click the button if you would like to obtain further information about the counselling hours.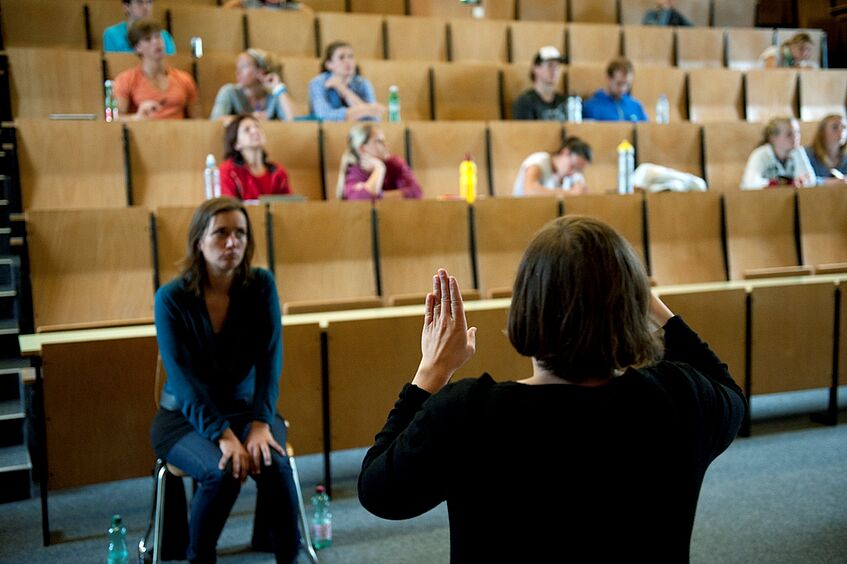 Information events
Information events taking place at irregular intervals
Every year, the Accessible Studying Team gives an information lecture at the BeSt, Unileben (in German) and uniorientiert fairs. On request, the team additionally gives presentations or holds workshops of varying duration focusing on different subjects.
Annual Welcome Day
The Accessible Studying Team organises an annual information day on the topic of accessible studying for new entrants.
Information websites
Portal: "Accessible University of Vienna"
This portal offers general information (not study-related) about the topic of accessibility at the University of Vienna. Accessibility includes areas such as infrastructure, communication, technology, events, legal issues as well as research.
Accessible teaching website
Teachers/examiners who need information about accessible teaching can refer to this website, which has been set up specifically for this purpose. This website provides information targeted specifically at teachers, e.g. about the preparation of accessible material, support services, the adaptations of exams and their implementation as well as administrative and legal issues.
Useful search functions
Search function for Austrian Sign Language (ÖGS)
Search function for Austrian Sign Language (ÖGS)
The menu options in u:find include a search function for languages, such as Austrian Sign Language (ÖGS). By selecting this search function, the search results will only include courses offered in Austrian Sign Language:
Leave the search field empty and click

SEARCH

.
Select

Courses

in the bar above the search results.
Under

all languages

, select

ÖGS (lang:sgn)

.