Behaviour, Neurobiology and Cognition (Master)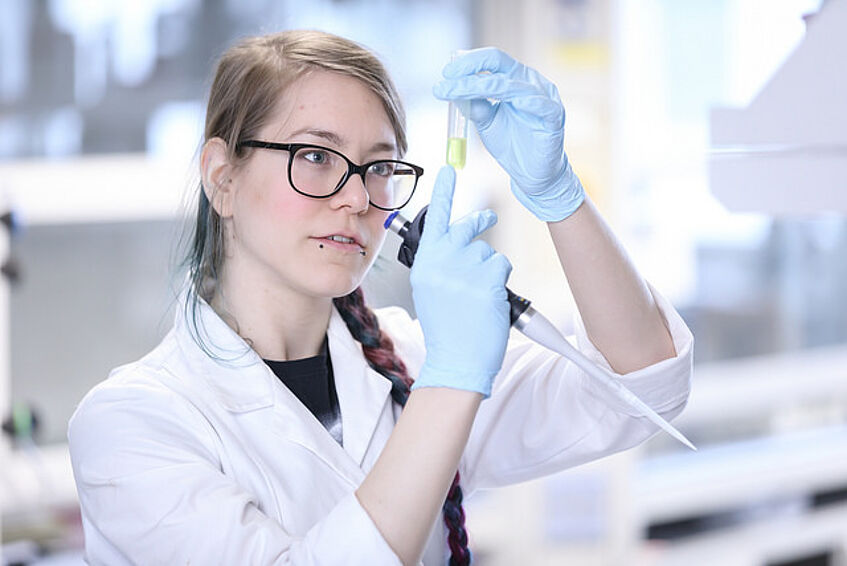 The master's programme in Behaviour, Neurobiology and Cognition aims at teaching the wide range of modern behavioural as well as cognitive biology and neurobiology. It is designed in a way that links the different disciplines of neuroscience and behavioural science. Students acquire profound knowledge of the correlations between behaviour and physiological processes in humans and animals.
Master of Science
Degree Programme Code: 066 878
4 semesters / 120 ECTS credits
Language: German
NO entrance examination
Attention
Instruction Language German
Study Programme
Depending on their specialisation, they acquire different core competences:
Behaviour: Based on previously acquired knowledge, students gain advanced knowledge of special areas of behavioural biology, such as behavioural endocrinology, communication, social behaviour and human-animal relationships.
Neurobiology: This specialisation focuses on the structure and function of nervous systems, and the senses and motor functions of animals on different organisational levels.
Cognition: This specialisation qualifies students to understand cognition from a comprehensive biological perspective. This includes a profound understanding of phylogenetic and evolutionary dimensions, functions and mechanisms in animals and humans, but also of the correlations of genetics and the environment, nature and culture, and evolution and ethics. Students have the opportunity to apply and strengthen the knowledge they acquired by conducting experimental research in small groups.
Five Concepts
which you will deal with during your studies:
Behavioural endocrinology
Neuroanatomy
Human-animal relationship
Sound communication
Physiology
... and many more.
Overview of the programme structure & topics
Here you find the current offer of courses for this programme to gain better insight into the topics and structure. For more information please click on the respective level.
Graduates can pursue a career in the following areas:
teaching and research at universities, departments of academies and other non-university research institutions

public authorities and federal agencies (e.g. in Austria, environmental departments of provincial governments, the Environment Agency Austria, the Austrian Agency for Health and Food Safety)

research administration at federal ministries, parliaments, universities and companies, as well as organisation of research promotion, planning and assessment

work in zoological gardens or aquariums

advisory functions in the area of pet keeping and animal husbandry

expert activities and collaboration in national and international environmental protection departments

work in the area of environmental protection, protection of species and animals

science journalism, academic documentation and editing activities (publication institutions, publishers, companies and other organisations)

public presentations (exhibitions, multimedia, eco events)

science management and laboratory organisation

consulting and participation in the area of environmental policy

risk assessment and research.
Graduates' Perspective on the Degree Programme
Graduate Survey
The University asks graduates to provide their opinion about the degree programme immediately after graduating. The survey results show how graduates evaluate the degree programme they completed from a subject-specific and organisational perspective.
The graduate survey is an important feedback tool for continuously improving the quality of studies.
Graduates ...
say that this degree programme receives the

grade: 2.0

(good)
rate the

level of difficulty

as:

3.3

(appropriate)
→ These results are based on feedback from 21 graduates.
*Detailed information about the implementation, analysis and use of the survey as well as further data can be found in the master's programme in Behaviour, Neurobiology and Cognition graduation survey (in German).
Career Tracking of Graduates
The tracking of graduates provides information about the career paths of the University of Vienna graduates and aims at providing guidance for career entry after graduation (e.g. questions about the duration of job search until first employment after graduation, salary development and sectors that graduates are active in).
3 years after graduation ...
72%

of graduates residing in Austria are

gainfully employed

.
graduates

earn

approx.

€ 2,831

gross/month.

15%

of graduates work in the tertiary/post-secondary education sector.

*You can find precise information on implementation, evaluation and use as well as further data for this degree programme in the graduate tracking "MA Biology".