Health and Physical Activity (Master)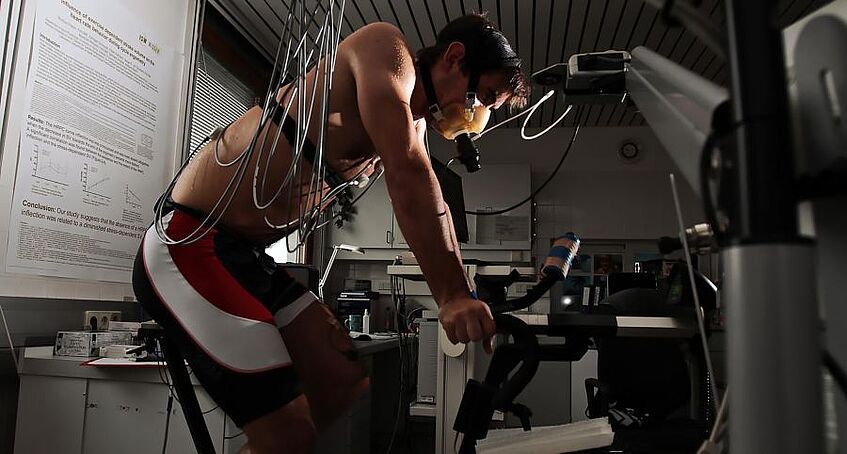 The European Master in Health and Physical Activity (joint programme) qualifies students to deal with research questions in the area of basic or applied research and implement them independently or within a team and in an academically informed manner. In addition, graduates of the programme are able to plan, organise, coordinate and provide training modules in the context of recreational activities, stress management, preventive healthcare, psychosocial integration, treatment of injuries and invalidity, or rehabilitation. Due to the international orientation of this master's programme, graduates are particularly qualified to apply their knowledge in a European and/or an international context.
All classes are held in English only.
Master of Science
Degree Programme Code: 066 350
4 semesters / 120 ECTS credits
Language: English
NO entrance examination
Study Programme
An essential component of this master's programme is the mobility of students. Therefore, the programme is offered in cooperation with international partner universities, in particular with the Foro Italico University of Rome (IUSM).
Several modules are offered in the form of blocked seminars at the Foro Italico University of Rome (IUSM). The master's programme consists of 4 intensive modules on the following subject areas: biomedical aspects of health and sport; psychological, educational and social aspects of health and physical activity; physical activity for seniors; prevention and rehabilitation; and research methods. In addition, students have to complete a specialisation module on the subject of healthy adults – fitness, prevention and public health. Moreover, they have to select one of four elective modules (at one of the partner universities) covering the following subject areas: children – education, prevention and development; seniors – ageing, wellness and daily structures; physical therapy for specific target groups; rehabilitation, musculoskeletal disorders and sport-related joint problems. To complete the programme, students have to write a master's thesis and pass a master's examination.
Five concepts
which you will deal with during your studies:
Public health and fitness
Psycho-social aspects of health
Rehabilitation
Motor skills development
Aqua therapy
... and many more.
Overview of the programme structure & topics
Here you find the current offer of courses for this programme to gain better insight into the topics and structure. For more information please click on the respective level.
Graduates can pursue a career in the following occupational fields (without this list being exhaustive):
public health system
private companies in the fitness and health sector
health promotion at the workplace
provision of training programmes, designed to meet the needs of different target groups
fitness clubs and spas
rehabilitation facilities
social counselling agencies
kindergartens and schools
tourism
counselling for decision-makers in the area of health promotion, fitness, rehabilitation, ...
Graduates' Perspective on the Degree Programme
Graduate Survey
The University asks graduates to provide their opinion about the degree programme immediately after graduating. The survey results show how graduates evaluate the degree programme they completed from a subject-specific and organisational perspective.
The graduate survey is an important feedback tool for continuously improving the quality of studies.
Career Tracking of Graduates
The tracking of graduates provides information about the career paths of the University of Vienna graduates and aims at providing guidance for career entry after graduation (e.g. questions about the duration of job search until first employment after graduation, salary development and sectors that graduates are active in).
3 years after graduation ...
88%

of graduates residing in Austria are

gainfully employed

.
graduates

earn

approx.

€ 2,902

gross/month.

17%

of graduates work in each of the sports, amusement, recreation activities sector and the human health activities sector.

*You can find precise information on implementation, evaluation and use as well as further data for this degree programme in the graduate tracking "MA Sports Science".