Physics (Bachelor)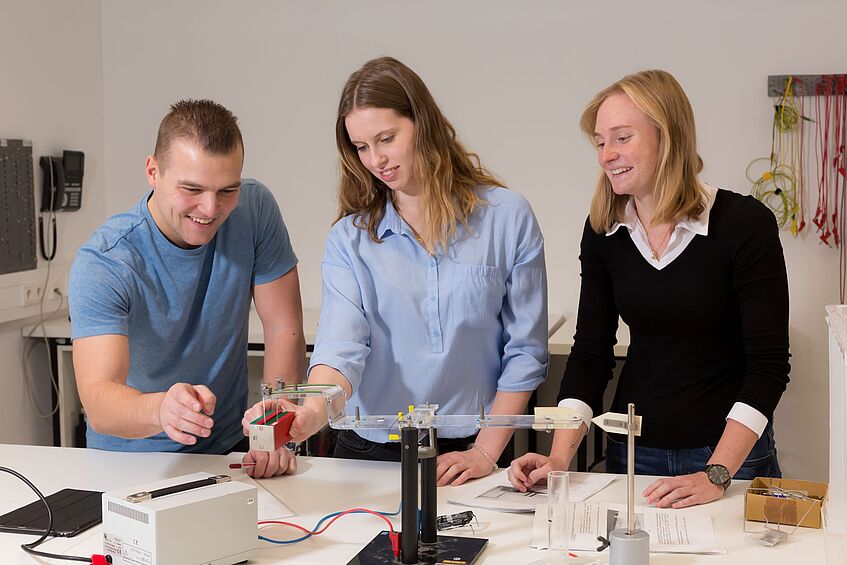 The bachelor's programme in Physics provides students with a comprehensive basic academic education in the area of physics and its areas of applications.
Graduates are familiar with scientific methods in physical experiments. They know how to describe physical correlations and processes in theoretical terms and to model them by means of computer-aided modelling. They have profound knowledge of the most important sub-disciplines of physics and their interrelations. Moreover, they have experience in using modern computer technologies and applying them in the field of natural and technical science. They know mathematical tools and methods and competently apply them to issues in the field of physics.
Bachelor of Science
Degree Programme Code: 033 676
6 semesters / 180 ECTS credits
Language: German and English
NO entrance examination
Attention
Instruction Language German
Study programme
The bachelor's programme in Physics comprises
the group of compulsory modules A "Introductory and Orientation Period (STEOP)";
the group of compulsory modules B focusing on subject-specific basic education in experimental and theoretical physics, computer science and the related mathematical basics;
the group of compulsory modules C, aimed at employing numerical methods to solve issues in the field of physics and at basic education in the area of computer-aided scientific work with emphasis on data analysis and visualisation;
as well as the two groups of elective modules A and B.
Five concepts
which you will deal with during your studies:
Quantum mechanics
Theory of relativity
Thermodynamics
Solid-state physics
Spectroscopy
... and many more.
Overview of the programme structure & topics
Here you find the current offer of courses for this programme to gain better insight into the topics and structure. For more information please click on the respective level.
The scientific foundation of the bachelor's programme in Physics qualifies graduates to critically assess knowledge and to argue in quantitative terms. The use of modern teaching and learning methods allows students to acquire scientific expertise, and promotes skills that are required in professional life, such as the ability to work independently and in teams. The specific physical mindset allows graduates to use their knowledge and skills in a wide range of occupational fields that require familiarity with logical structures as well as creativity and innovative thinking and that extend beyond the limits of the discipline.
Graduates' Perspective on the Degree Programme
Graduates ...
say that this degree programme receives the

grade: 2.1

(good)
rate the

level of difficulty

as:

4.1

(high)
→ These results are basd on feedback from 126 graduates.
*You can find further assessments of the degree programme from its graduates' perspective in the graduate survey of the bachelor's programme in Physics graduation survey (in German).