Ancient History and Studies in Classical Antiquity (Master)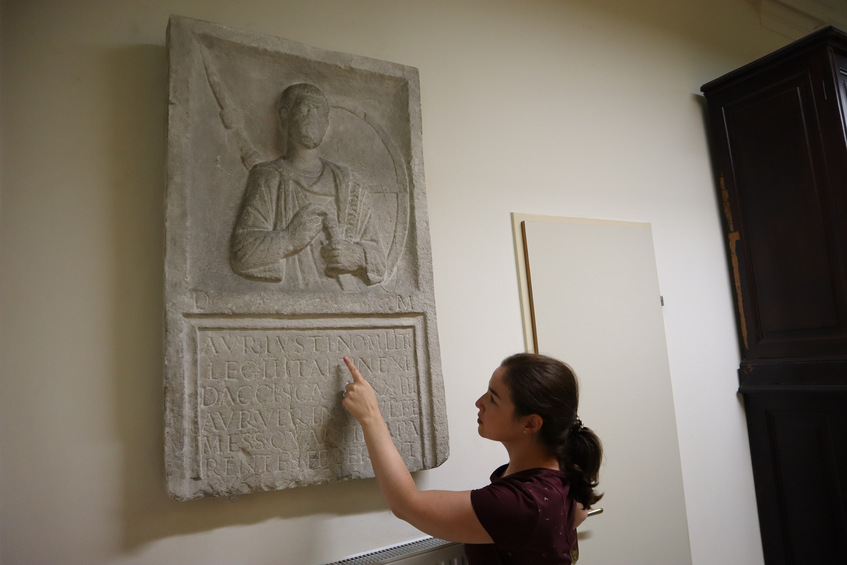 The master's programme in Ancient History and Studies in Classical Antiquity aims at providing students with an academic education in classical antiquity and ancient history. Students improve their understanding of different cultures in the Mediterranean region and the Middle East. Topics of women's and gender history form an important part of this master's programme. Graduates of the programme are able to think in historic categories and development contexts. They have extensive knowledge of the study of sources from Greek and Roman antiquity, as well as specialist knowledge of selected areas of ancient history, classical antiquity and related disciplines. They are qualified for academic work in all its diversity. Furthermore, graduates are able to edit source materials and develop research projects under supervision.
Master of Arts
Degree Programme Code: 066 807
4 semesters / 120 ECTS credits
Language: German
NO entrance examination
Facts & Figures
Students: n.a.
Graduates in the last academic year: n.a.
Number of semesters needed for graduation (median): n.a.
Data updated on: 20.07.2023
Attention
Instruction Language German
Study Programme
The master's programme consists of two compulsory modules Introduction to the Master Ancient History and Academic Research and Writing; the group of compulsory modules Studying Ancient Sources; and the compulsory modules Ancient History and Etruscology, Applied History: Field Trip and a Master's Thesis Seminar. To complete the programme, students have to write a master's thesis and pass a master's examination
Five concepts
which you will deal with during your studies:
Etruscology
Source studies
Numismatics
Epigraphy
Cultures in the Mediterranean region
... and many more.
Overview of the programme structure & topics
Here you find the current offer of courses for this programme to gain better insight into the topics and structure. For more information please click on the respective level.
Graduates of the master's programme are able to present research findings as well as general knowledge to different target groups. They are qualified to work at non-university research institutions, educational and cultural institutions and are capable to work in teams. In addition, they have acquired the ability to reflect on their own academic work and to deal with academic criticism. Based on this comprehensive education, graduates are also qualified to work in non-university occupational fields, such as the educational sector, journalism, public cultural work and cultural management, and more.
Graduates' Perspective on the Degree Programme
Graduates ...
say that this degree programme receives the

grade: 1.3

(excellent)
rate the

level of difficulty

as:

4

(high)
→ These results are basd on feedback from 6 graduates.
*You can find further assessments of the degree programme from its graduates' perspective in the graduate survey of the master's programme in Ancient History and Studies in Classical Antiquity (in German).
Graduates ...
find

employment within 2 months after graduation

on average.

earn

an average of

€ 2,719

(women) and

€ 2,702

(men) gross per month

within three years after graduation

.

work full time at

a percentage of

68

%

(women) and

62%

(men)

within three years after graduation

.
*You can find further information on career entry and career paths in the tracking of graduates "Arts and Humanities".