Philosophy and Economics (Master)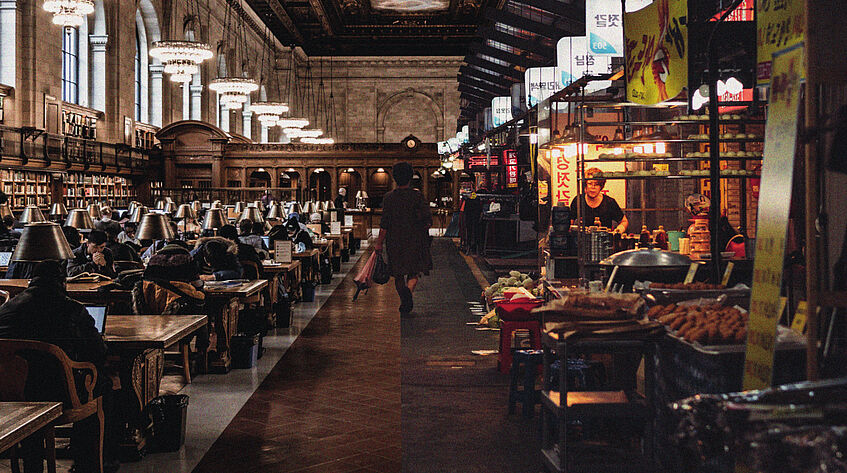 The master's programme Philosophy and Economics provides students with qualification in central topics and methods at the intersection of philosophy and economics. The two-year programme is jointly offered by the Department of Philosophy and the Department of Economics.
Graduates have acquired the knowledge and skills to bring a unique interdisciplinary perspective to bear on the solution of pressing social, economic, and political problems in modern societies.
This programme is being offered since the study year 20219/20.
Facts & Figures
Students: n.a.
Graduates in the last academic year: n.a.
Number of semesters needed for graduation (median): n.a.
Data updated on: 20.07.2023
Admission Procedure
Information about the selection procedure
Admission Requirements
Previous studies in a subject area that qualifies for admission
PLUS qualitative admission requirements: Admission to the program requires completion of the following qualitative prerequisite admission requirements in the prerequisite programme:

15 ECTS Credits of philosophy AND
15 ECTS Credits of economic courses.
Information on Previous Studies:
In any case eligible degree programmes:
---
Successful applicants have typically studied philosophy and/or economics, or a related discipline such as political science. Students from other disciplines are considered and are asked to explain the link between their discipline and this degree programme in their letter of motivation.
Study Programme
The master's programme Philosophy and Economics is divided into three subject areas: Philosophy, History and Methodology of Economics; Rationality and Decision; Ethics, Welfare and Justice.
In all semesters, students attend interdisciplinary core seminars on selected themes and methods at the intersection of philosophy and economics. Next to these seminars, students deepen their subject-specific foundational knowledge and skills in philosophy and economics during their first semester. In the second semester, students acquire interdisciplinary knowledge of the three subject areas of philosophy and economics. In the third semester, students intensively study specific interdisciplinary topics and investigate potential venues of research for their master's thesis. Students can also attend elective courses from a broad range of courses offered at the University of Vienna, in philosophy, economics, and other disciplines.
In the final semester, students undertake an independent interdisciplinary research project to produce their master's thesis. Students present their ongoing research in an interdisciplinary research seminar. In this seminar, students contribute to each others research through discussion of the research presentations.
Five Concepts
which you will deal with during your studies:
Public Economics

Behavioural Economics

Rationality

Justice

History of Economic Thought
...and many more.
Overview of the programme structure & topics
Here you find the current offer of courses for this programme to gain better insight into the topics and structure. For more information please click on the respective level.
Graduates will have acquired a unique combination of knowledge and analytical skills in the area of philosophy and economics. The programme allows students to specialise according to their interests and future plans, and to prepare for careers in the public and private sector, for excample, public institutions at the international, European, national, regional and local level, political parties, trade unions and business associations, social activism and non-governmental organisations, journalism, business and strategy consulting, corporate social responsibility, social entrepreneurship, and academic teaching and research.
Graduates' Perspective on the Degree Programme