Digital Humanities (Master)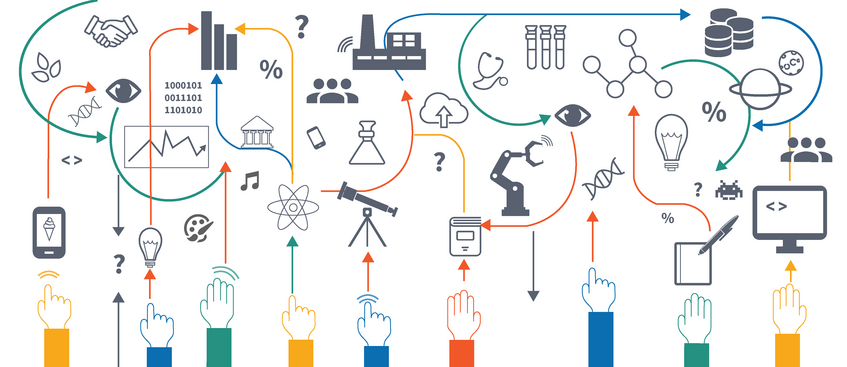 Joint Venture
The master's programmes Business Analytics, Data Science and Digital Humanities are a joint venture of the faculties of Business, Economics and Statistics, Computer Science, Historical and Cultural Studies, Mathematics, and Philological and Cultural Studies.
Digitalisation is a sustainable formative factor in many areas of science and society. The solution to the technical problems arising from digitalisation and the scientific reaction to consequences of digitalisation represent a central task of cultural studies.
The master's programme in Digital Humanities aims at training students who will make a significant contribution to the promotion and anchoring of computer-based methods in humanities research contexts.
Further information on the degree programme is available here
Master of Arts
Degree Programme Code: 066 647
4 semesters / 120 ECTS credits
Language: bilingual (German & English)
NO entrance examination
Study Programme
Study Programme
The degree programme consists of the compulsory modules "Digital Humanities Skills", "Theory and Practice of the Digital Humanities", "Digital Humanities in Data Science", "Specialisation in Clusters of Digital Humanities" and a "Master's Thesis Seminar".
Focus on interdisciplinarity
The degree programmes Business Analytics, Data Science and Digital Humanities were designed together. Students of all three degree programmes complete the same course contents to the extent of one semester. The offered courses and the various disciplinary locations of students allow for a very broad interdisciplinary exchange.
Five Concepts
which you will deal with during your studies:
Data Analysis
Digital Human
Data Science
Informationstechnik
Data Ethics
... and many more.
uniorientiert-gleanings
Answers to questions asked at uniorientiert
Is Digital Humanities exclusively a Master programme or is there also an option for a bachelor's degree?
Does it make sense to choose a specialization in the area in which you have a bachelor's degree? Or is the specialization intended more as an introduction to other areas?
I have already completed all my extension curricula in my Bachelor. Is it still possible to catch up on the EC Digital Humanities at the beginning of the Master programme?
Could you maybe give a few examples of possible master thesis topics?
What are the career perspectives after this degree?
Is the internship mandatory or recommended?
Overview of the programme structure & topics
Here you find the current offer of courses for this programme to gain better insight into the topics and structure. For more information please click on the respective level.
Graduates are qualified to put the knowledge and skills of cultural studies into a new perspective and further advance these skills in digital projects by using the techniques and methods of digital humanities. They possess active knowledge of the basics of data and information technology and gain the competence to apply it on the various subject areas and forms of data of cultural studies. Thus, graduates are qualified to work not only in scientific contexts, but also particularly in application-oriented digitalisation projects in all areas of society.
Graduates' Perspective on the Degree Programme
Graduate Survey
The University asks graduates to provide their opinion about the degree programme immediately after graduating. The survey results show how graduates evaluate the degree programme they completed from a subject-specific and organisational perspective.
The graduate survey is an important feedback tool for continuously improving the quality of studies.
Career Tracking of Graduates
The tracking of graduates provides information about the career paths of the University of Vienna graduates and aims at providing guidance for career entry after graduation (e.g. questions about the duration of job search until first employment after graduation, salary development and sectors that graduates are active in).