Classical Archaeology (Bachelor)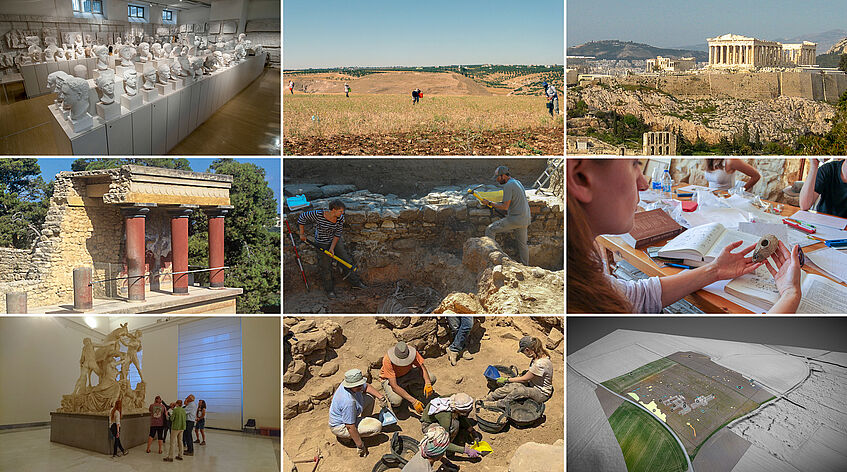 Are you fascinated by Ancient Greece, Roman cities like Carnuntum or early Christian churches and do you want to know more about their underlying cultures? Then this is the right degree programme for you! The bachelor's programme in Classical Archaeology deals with the Greco-Roman cultural area from the Bronze Age to Late Antiquity and can currently only be completed in Austria at the University of Vienna. It focuses on the entire material legacy, ranging from inconspicuous ceramic shards to monumental buildings.
Apart from courses on the various groups of monuments and artefacts, courses on cultural theory and practice are offered. The activities range from excavations in Austria and abroad to the determination and historical classification of objects by studying in the library. The degree programme aims at equipping students with the basic knowledge of indexing, reconstructing and interpreting material and pictorial sources by means of critical analysis. Therefore, the bachelor's programme in Classical Archaeology forms a solid basis for further education in the historical and cultural studies.
Bachelor of Arts
Degree Programme Code: 033 685
6 semesters / 180 ECTS credits (including 60 ECTS credits of extension curricula)
Language: German
NO entrance examination
Attention
Instruction Language German
Study programme
At the beginning of the degree programme, students must complete two compulsory modules in the introductory and orientation period (StEOP), one compulsory module on the methodological basic knowledge and three elective modules out of five subject areas (see "programme structure & topics"). The compulsory model on field archaeology, cultural heritage preservation and museology as well as the alternative compulsory module "field trip" or "training excavation" serve as a practice-oriented extension. Subsequently, three advanced compulsory modules deal with central occupational fields and practices of the subject. The compulsory module "archaeological consolidation" allows for an individual specialisation. The degree programme ends with a bachelor's module.
In addition, students have to complete extension curricula corresponding to 60 ECTS credits.
Five concepts
which you will deal with during your studies:
Ancient buildings and arts
Material culture
Iconography
Excavation and field trip
Archaeological stratigraphy
... and many more.
Overview of the programme structure & topics
Here you find the current offer of courses for this programme to gain better insight into the topics and structure. For more information please click on the respective level.
Graduates have basic knowledge and competences to engage in cultural-historical research projects and field archaeological activities (e.g. excavations) as well as antiquarian and contextual processing and the interpretation of archaeological source material. The acquired critical analytical skills enable them to pursue further studies, such as a master's degree in Classical Archaeology as well as all other master's degrees in Classical Studies. In any case, a subsequent master's degree is recommended for a career in science and research. Furthermore, the bachelor's programme in Classical Archaeology enables graduates to enter professional fields related to archaeology in the cultural and monument preservation sector (e.g. cultural mediation, museum, archaeological excavation) and in culture-related economic sectors (e.g. tourism).
Graduates' Perspective on the Degree Programme
Graduate Survey
The University asks graduates to provide their opinion about the degree programme immediately after graduating. The survey results show how graduates evaluate the degree programme they completed from a subject-specific and organisational perspective.
The graduate survey is an important feedback tool for continuously improving the quality of studies.
Graduates ...
say that this degree programme receives the

grade: 2

(good)
rate the

level of difficulty

as:

3.3

(appropriate)
→ These results are basd on feedback from 12 graduates.
*Detailed information about the implementation, analysis and use of the survey as well as further data can be found in the bachelor's programme in Classical Archaeology graduation survey (in German).
Career Tracking of Graduates
The tracking of graduates provides information about the career paths of the University of Vienna graduates and aims at providing guidance for career entry after graduation (e.g. questions about the duration of job search until first employment after graduation, salary development and sectors that graduates are active in).
3 years after graduation ...
60%

of graduates residing in Austria are

gainfully employed

.
graduates

earn

approx.

€ 2,424

gross/month.

8%

of graduates

work in the retail trade sector

.
*You can find precise information on implementation, evaluation and use as well as further data for this degree programme in the graduate tracking "Arts and Humanities".