Translation (Master)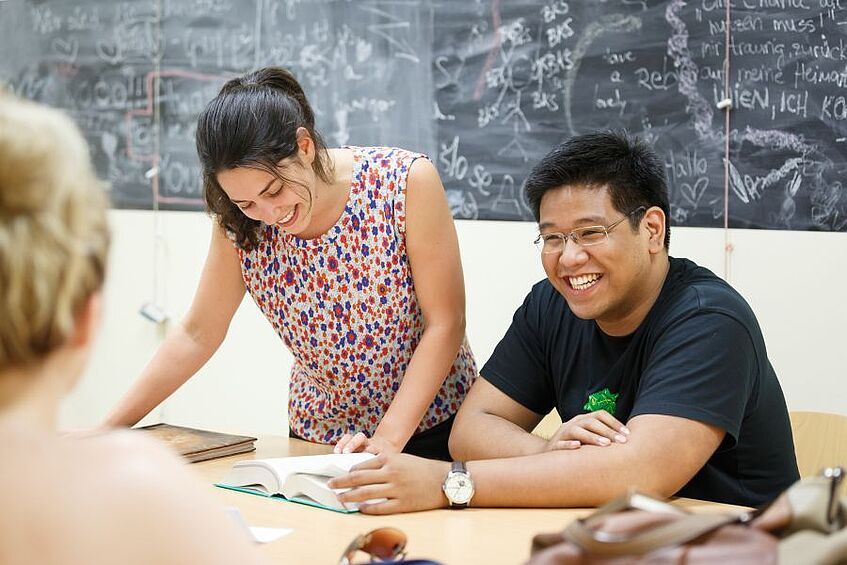 The master's programme in Translation aims at combining practical translation activities with the underlying academic concepts and strategies. Under ever changing social and technological circumstances, graduates of this master's programme are qualified to independently act as translators and interpreters in a globalised society, process acquired knowledge, apply and demonstrate their skills, further develop their own competences, adapt to new areas of activity in a flexible way and contribute to shaping them in a competent manner.
Students of the master's programme in Translation have the opportunity to specialise in the following areas: Specialised translation and language industry; translation in literature, media and the arts; dialogue interpreting; and conference interpreting.
For the master's programme in Translation you have to choose a specialisation and a specific combination of languages. The choice is binding, has to be registered and cannot be changed later. For both choices you can take your time. The compulsory module phase (module 01 and 02) can be done without having decided for a specialisation or language combination. For all courses from module 03 onwards the specialisation and for all courses from module 05 onwards the language combination has to be registered. It is therefore highly recommended to use the courses of module 01 and 02 for orientation.
Facts & Figures
Students: n.a.
Graduates in the last academic year: n.a.
Number of semesters needed for graduation (median): n.a.
Data updated on: 20.07.2023
Attention
Instruction Language German
Study Programme
Students can select and combine the following languages (according to the emphasis they choose):
German, Bosnian/Croatian/Serbian, Chinese, English, French, Italian, Japanese, Polish, Portuguese, Romanian, Russian, Spanish, Czech and Hungarian.
The master's programme aims at preparing students for a future career as translators and interpreters. Additionally, students acquire and strengthen competences required for all areas of translation and interpreting, including translation competence, transcultural competence, language competence, research competence, technological competence as well as meta-skills and social competences.
Five Concepts
which you will deal with during your studies:
Specialised translation
Dialogue interpreting
Simultaneous interpreting
Consecutive interpreting
Conference interpreting
... and many more.
Overview of the programme structure & topics
Here you find the current offer of courses for this programme to gain better insight into the topics and structure. For more information please click on the respective level.
Graduates can work in a wide range of areas:
companies

public and private institutions

national and international organisations and media

cultural institutions

publishers, as well as translation agencies.

Graduates' Perspective on the Degree Programme
Graduates ...
say that this degree programme receives the

grade: 2.5

(good)
rate the

level of difficulty

as:

3.8

(high)
→ These results are based on feedback from 118 graduates.
*You can find further assessments of the degree programme from its graduates' perspective in the graduate survey of the master's programme in Translation (in German).
Graduates ...
find

employment within 1 month after graduation

on average.
*You can find further information on career entry and career paths in the tracking of graduates "MA Translation".