Transcultural Communication (Bachelor)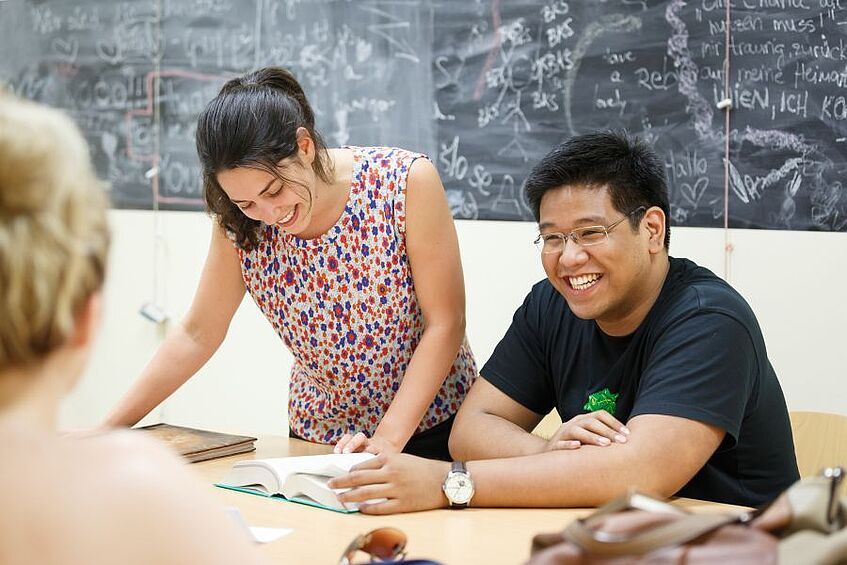 The bachelor's programme in Transcultural Communication strives to impart basic academic knowledge and methods as well as practical skills, preparing students for a profession in the area of transcultural communication. Students acquire a high level of language and cultural competence as well as contrastive (subject-specific) text competence in the chosen working languages – German in combination with one or two additional working languages. Therefore, the bachelor's programme develops students' basic translation competences.
Students can choose from the following languages: German, Bosnian/Croatian/Serbian, English, French, Italian, Polish, Portuguese, Romanian, Russian, Spanish, Czech, Hungarian.
Bachelor of Arts
Degree Programme Code: 032 xxx xxx
6 semesters / 180 ECTS credits (including 45 ECTS credits of extension curricula for students with two working languages )
Sprache: German & one or two further languages (available options: Bosnian/Croatian/Serbian, English, French, Italien, Polish, Portuguse, Romanian, Russian, Spanish, Czech, Hungarian)
Attention
Instruction Language German
Study programme
The bachelor's programme consists of different modules. The combination of the modules depends on whether you choose two or three languages. The selected languages can be reduced or extended once by one language. The possibility of a change relates exclusively to the number of working languages. so the primarily selected languages remain in the new (reduced or extended) combination.Detailed information about the choice of language and the module structure can be found in the curriculum. The link to the Curriculum can be found at the very top of this site.
Five concepts
which you will deal with during your studies:
Language, text and culture
Transculturality
Specialised communication
Multilingualism
Discourse analysis
... and many more.
Presentations at the uniorientiert 2021
Overview of the programme structure & topics
Here you find the current offer of courses for this programme to gain better insight into the topics and structure. For more information please click on the respective level.
Graduates of the bachelor's programme are qualified to communicate contents in a range of different communication situations and for a variety of target groups and cultures in their working languages. This enables them to pursue a career in a variety of occupational fields in the business sector or public administration, as well as with public, private and cultural institutions and companies that cooperate with partners around the world and have an international clientele.
Graduates' Perspective on the Degree Programme
Graduate Survey
The University asks graduates to provide their opinion about the degree programme immediately after graduating. The survey results show how graduates evaluate the degree programme they completed from a subject-specific and organisational perspective.
The graduate survey is an important feedback tool for continuously improving the quality of studies.
Graduates ...
say that this degree programme receives the

grade: 2.9

(satisfactory)
rate the

level of difficulty

as:

3.2

(appropriate)
→ These results are basd on feedback from 278 graduates.
*Detailed information about the implementation, analysis and use of the survey as well as further data can be found in the bachelor's programme in Translation and Interpreting graduation survey (in German).
Career Tracking of Graduates
The tracking of graduates provides information about the career paths of the University of Vienna graduates and aims at providing guidance for career entry after graduation (e.g. questions about the duration of job search until first employment after graduation, salary development and sectors that graduates are active in).
3 years after graduation ...
56%

of graduates residing in Austria are

gainfully employed

.
graduates

earn

approx.

€ 2,504

gross/month.

9%

of graduates work in the retail trade sector.

*You can find precise information on implementation, evaluation and use as well as further data for this degree programme in the graduate tracking "BA Transcultural Communication".