Studying remotely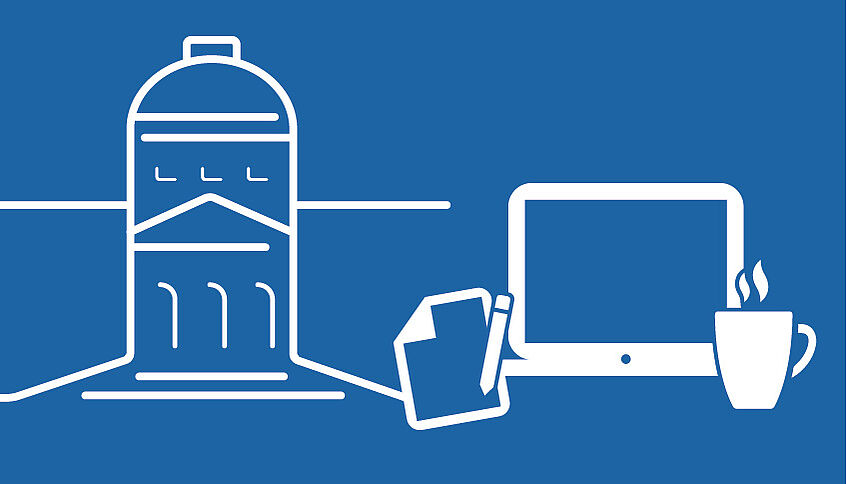 Studying remotely
Due to SARS CoV-2, teaching at the University of Vienna in the winter semester of 2020/2021 will take place in hybrid form. This means that courses are held online, on site and in a mixed form, where some students attend the course on site and some join the course online. This website provides up-to-date information, tips and tricks as well as the most important FAQs on studying remotely for students. The information on this website is updated continuously.
Save the date and check the batteries of your computers!
unileben – the fair for university life – takes place online (including all workshops and talks) on 1 and 2 October 2020.
From the beginning of September onwards, you can have a sneak peek at the workshop programme and the exhibitors. Visit our website (in German) at unileben.univie.ac.at.
Working successfully in (study) groups
The University of Vienna's blog articles on remote learning often recommend working together in (study) groups. In this article, we share tips on how to make the most of working in groups.
Digital exams using permitted materials
Through the change to digital written exams, the exam type, too, may change in some cases. This may also mean that you are allowed to use your study materials. The Center for Teaching and Learning (CTL) of the University of Vienna has compiled tips to support you in preparing for these exam situations.
How can I simplify learning at home?
How can I simplify learning at home?
Learning the right way is especially tough under the current circumstances. Your daily routine has changed and switching to remote learning requires you to work independently.
How can I avoid planning mistakes and time wasters?
How can I avoid planning mistakes and time wasters?
Is your schedule not always working out or are tasks taking much longer than anticipated? If this sounds familiar to you, the Center for Teaching and Learning has compiled the following tips to hopefully help you improve the way you study.
Four hacks for effective remote learning
The current change from face-to-face teaching to remote learning alters the daily routine we are used to and that reliably structured our studies and our learning progress week after week. Therefore, structuring your personal routine is essential.
FAQs Prospective students
When can I come to the Admission Office in person again and what applications can I submit online?
What are the admission periods?
The entrance exam for the subject I am interested in does not take place. Are there free places?
I missed the deadline for admission to a degree programme with an entrance exam procedure. Can I still apply for and be granted admission?
Will I be able to enter the country for admission in person, entrance examination or for the start of the winter semester?
FAQs Organisation of studies
What changes after 1 July 2020 for students?
When do I have to wear a face mask in the university buildings?
What should I do if I am suspected to have contracted COVID-19?
When does the summer semester of 2020 end and how does teaching continue in the summer?
When do additional exams take place in summer or autumn?
Can I validate my u:card?
How will courses take place in the winter semester of 2020/2021?
Will student visas be extended?
I need my degree certificate. What can I do?
Do graduation ceremonies take place?
Do I have to pay for a graduation ceremony that has been cancelled?
Can I currently use the services provided by the Language Centre, Uniport or USI?
Will curricula that will be phased out the next semester or the semester after next be extended?
Will the tuition fees for the summer semester 2020 be reimbursed due to compulsory military or alternative civilian service?
When can I take a leave of absence?
I am on leave of absence, but I changed my mind and would like to continue my studies now. Is this possible?
Where can I find the opening hours of the Vienna University Library and what rules apply regarding the lending service?
What information and guidance are available about remote learning for persons with impairments?
How does the change to remote learning affect the financial aid I receive?
I cannot afford to pay the tuition fees. What are my options?
Where can I find information about grants/scholarships and federal aid for students?
The period when there are no classes in the summer of 2020 is suspended due to the ordinance of the Ministry. Does this mean that I have to stay in Vienna over the whole summer period?
Are my ancillary activities related to COVID-19 credited to my studies?
FAQs courses, exams and submissions
What about exams? Which regulations apply for exams?
How can oral exams be held during remote learning?
How can written exams be held during remote learning?
What do I have to do if my exam with physical attendance takes place at an exam centre?
What happens if I experience technical difficulties during an exam and am unable to complete the exam?
What about compulsory practical courses or internships?
I have a problem with a course or exam date. What can I do?
How can I submit my academic thesis at the moment?
I cannot complete my bachelor's thesis until 30 September 2020. What should I do?
What are the deadlines for courses with continuous assessment (pi courses) in the summer semester of 2020?
How does the University deal with the viewing of exam results? Is it possible to use digital tools?
FAQs International
How does remote learning work for Erasmus students?
Who to ask about...?
the beginning of my studies?
the organisation of studies?
psychological counselling for students?