Studying remotely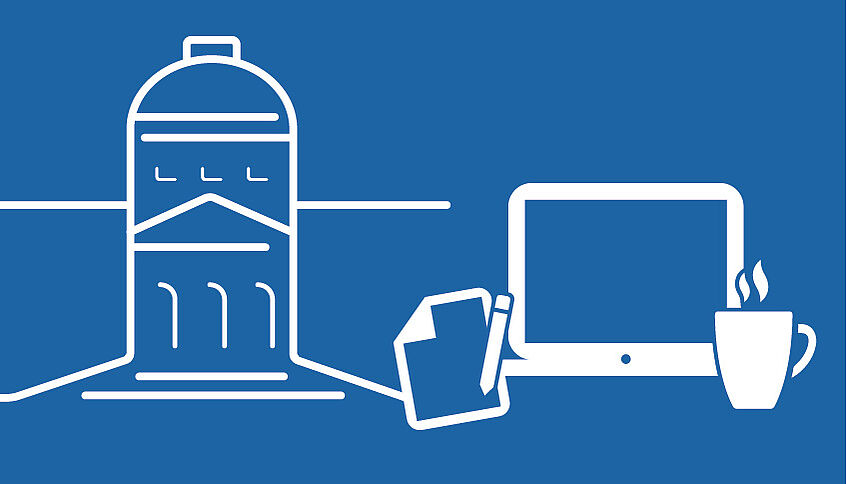 Studying remotely
In the winter semester of 2020/2021, teaching will take place digitally, on site and as a combination of both (hybrid teaching). This information website for students will be updated continuously.
Angelika is studying Mathematics and Chemistry in the teacher education programme at the University of Vienna. As part of the Humans of University of Vienna series she shares her experiences gained at UniClub, an alternative to teaching practice. "The weekly lessons with these inquisitive young people were a truly enriching experience, especially during the lockdown. In addition, the UniClub was an important support service for many school students, in particular at a time when schools were closed. I could really make a difference by sharing my knowledge."
Working successfully in (study) groups
The University of Vienna's blog articles on remote learning often recommend working together in (study) groups. In this article, we share tips on how to make the most of working in groups.
Digital exams using permitted materials
Through the change to digital written exams, the exam type, too, may change in some cases. This may also mean that you are allowed to use your study materials. The Center for Teaching and Learning (CTL) of the University of Vienna has compiled tips to support you in preparing for these exam situations.
How can I simplify learning at home?
How can I simplify learning at home?
Learning the right way is especially tough under the current circumstances. Your daily routine has changed and switching to remote learning requires you to work independently.
How can I avoid planning mistakes and time wasters?
How can I avoid planning mistakes and time wasters?
Is your schedule not always working out or are tasks taking much longer than anticipated? If this sounds familiar to you, the Center for Teaching and Learning has compiled the following tips to hopefully help you improve the way you study.
Four hacks for effective remote learning
The current change from face-to-face teaching to remote learning alters the daily routine we are used to and that reliably structured our studies and our learning progress week after week. Therefore, structuring your personal routine is essential.
FAQs Prospective students
What do I have to consider during admission to a degree programme in the winter semester of 2020/2021?
FAQs Organisation of studies
How will courses take place in the winter semester of 2020/2021?
Can I currently use the services provided by the Language Centre, Uniport or USI?
What information and guidance are available about digital and hybrid studies for persons with impairments?
FAQs courses, exams and submissions
Can exam documents be viewed online?
I cannot come to the University to attend a course/sit an exam (risk groups, quarantine, entry restriction). What should I do?
What happens if I experience technical difficulties during an exam and am unable to complete the exam?
I have a problem with a course or exam date. What can I do?
FAQs International
As an exchange student, what do I have to consider?
Who to ask about...?
the beginning of my studies?
the organisation of studies?
psychological counselling for students?