Studying on site
Courses and exam will continue to be held in a digital format, as far as possible, for the complete winter semester 2020/21. This website provides information, tips and tricks as well as the most important FAQs on studying on site for students.
If you experience symptoms or have had contact with infection, call 1450.
Report to the university if you are a confirmed suspected case of infection and have attended lectures and exams on site: Service desk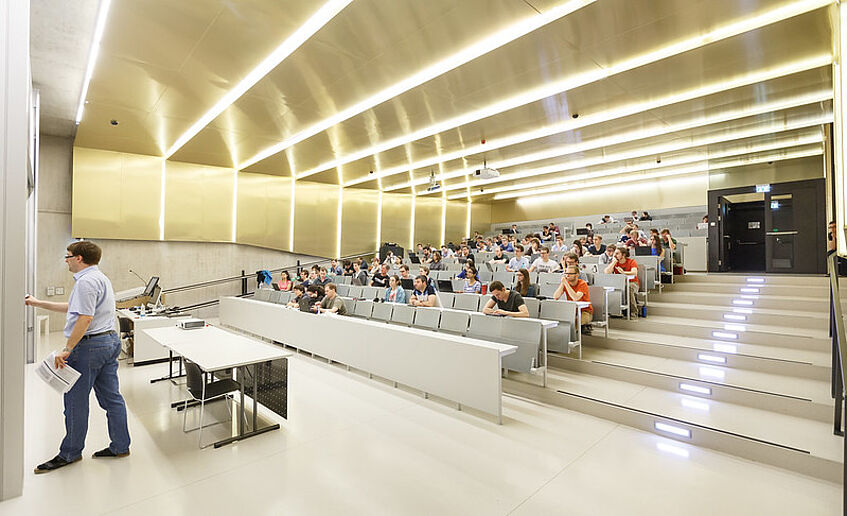 Summary of the applicable regulations for studying on site:
Register for all courses and exams via u:space.
Adhere to the general hygiene rules and rules of conduct.
Please check the opening hours of the university buildings. Only employees have access as well as students registered for an on-site course or persons who have been prompted to come to the University in person (e.g. by the lending service of the Vienna University Library). During the opening hours, persons can spend a break between two courses at the Student Spaces.
Only use labelled seats.
Keep a seat number record. (mandatory)
Wearing a face mask is mandatory

in all public areas of the University of Vienna and also in all indoor rooms if you may come into physical contact with other persons or if the risk of infection is not minimised by any other appropriate protective measures.

during courses

for the entire duration of the course
Except for presentations in the front section of the course room or for brief questions/oral contributions at your seat for which you can remove the face mask

during exams

for the entire duration of the exam
Exception: During oral exams, you may remove the face mask if all participants keep a minimum distance of two metre
Studying in the winter semester of 2020/21 - the most important rules
Before attending the course
Check the format of the course (digital, hybrid or on-site lesson) on u:find.
Go to u:space and check whether you are duly registered for the course/exam.
Check your Webmail account as well as Moodle to see if there are any short-term changes regarding the relevant course/exam.
For courses with a large number of participants, students may have to announce via Moodle that they really wish to attend the course on site (and not online).
Bring a face mask and disinfectant/sanitiser (in small quantities) for your hands and work surfaces.
Charge the battery of your laptop and mobile phone so that you can use it during the course/exam and in the case of an emergency, if necessary.
Please also bring your headphones, in case you need them.
If you experience symptoms of COVID-19 (e.g. a cough, a sore throat, high temperature) on the day of the course unit/exam, stay at home and call the hotline of the public health service 1450.
On site at the University
Always adhere to the COVID-19 hygiene rules and rules of conduct:
Keep a distance

: Keep a distance of at least 1 metre from others.

Respiratory hygiene

: Cover your mouth and nose with a disposable tissue or the crook of your arm when coughing or sneezing.

Wash your hands

: Wash your hands regularly and thoroughly with soap and water or with alcohol hand sanitiser.

Disinfectant

: Bring small amounts of disinfectant as well as disposable tissues to clean your hands and work surfaces.

Face mask

: Wear a face mask in all public areas of the University of Vienna.

Avoid using the lifts

: Do not use lifts, if possible.

In the event of a suspected COVID-19 infection

: Call the hotline 1450, go home and/or stay at home. Please contact us if you have a confirmed COVID-19 infection so that we can take the necessary steps. To do so, please use the Service Desk.
In the lecture room
Always keep a distance of 1 metre from other persons.
Wear a face mask inside the buildings also during courses and exams. Thereby, you protect yourself and others. You can remove the face mask for short oral contributions and presentations. Keep a minimum distance of at least 2 metres during presentations.
During oral exams, you may take off your face mask if all participants keep a minimum distance of 2 metres.
Seats in course rooms are labelled due to the minimum distance rules. You may only use labelled seats.
To be on the safe side, sanitise the workspace when taking a seat or a lab space.
Mandatory: Document your attendance in courses in your seat number record to be able to determine if you are considered a contact in case of a confirmed infection. In addition, the Corona app of the Austrian Red Cross is a useful tool.
If you cannot find a free labelled seat, you have to leave the lecture hall.
Course units and exams must not start before it can be ensured that only labelled seats are occupied. For reasons of fire safety and security, standing in the aisles and sitting on the floor is prohibited.
If you refuse to leave the lecture hall, the course unit has to be cancelled. Therefore, please be cooperative and considerate towards your fellow students.
Seat number record (mandatory)
Keep a seat number record. It allows you to easily and quickly reconstruct which seats you used in which lecture hall and when. This also applies to other working stations like in laboratories. Please maintain this list regularly and thoroughly. It serves to protect yourself as well as others.
The health authorities may want to know with whom you had contact. In this case, please tell them that you are a student of the University of Vienna and provide them with your seat number record.
You will be contacted if a person was present in the same course as you has a confirmed COVID-19 infection. The seat number record allows the authorities to assess whether or not you had direct contact with an infected person.
University Library (UB): There is a separate system if you use the currently offered on-site services of the University Library. For information, please contact the University Library.
Seat Number Record Template (Word-Document)
Places for studying
Outside the course rooms, students can choose their preferred place for studying according to their own preferences. The available options are as diverse as the students of the University, ranging from your home and cafés to student spaces and reading rooms at the University.
Attention
Please keep in mind, that places for studying might be closed or have changes in opening hours depending on the pandemic development.
FAQs Prospective students
What do I have to consider during admission to a degree programme in the summer semester of 2021?
FAQs Organisation of studies
Are university buildings open to the public?
Do I have to wear a face mask in the university buildings?
I cannot wear a face mask for health reasons. What should I do?
What should I do if I am suspected to have contracted COVID-19?
How are courses held after the lockdown?
Can I currently use the services provided by the Language Centre, Uniport or USI?
Where can I find the opening hours of the Vienna University Library and what rules apply regarding the lending service?
Can I use the Student Spaces?
What information and guidance are available about studying for persons with impairments?
FAQs courses, exams and submissions
My course/exam takes place on site. Do I get a confirmation that I can present if I am checked by the police due to the lockdown?
I have an impairment and have to bring one or two assistants to the course with me. Is this possible?
I cannot come to the University to attend a course/sit an exam (risk groups, quarantine, entry restriction). What should I do?
I have a problem with a course or exam date. What can I do?
FAQs International
As an exchange student, what do I have to consider?