Studying on site
This website provides students with up-to-date information, tips and tricks as well as with the most important FAQs on studying on site.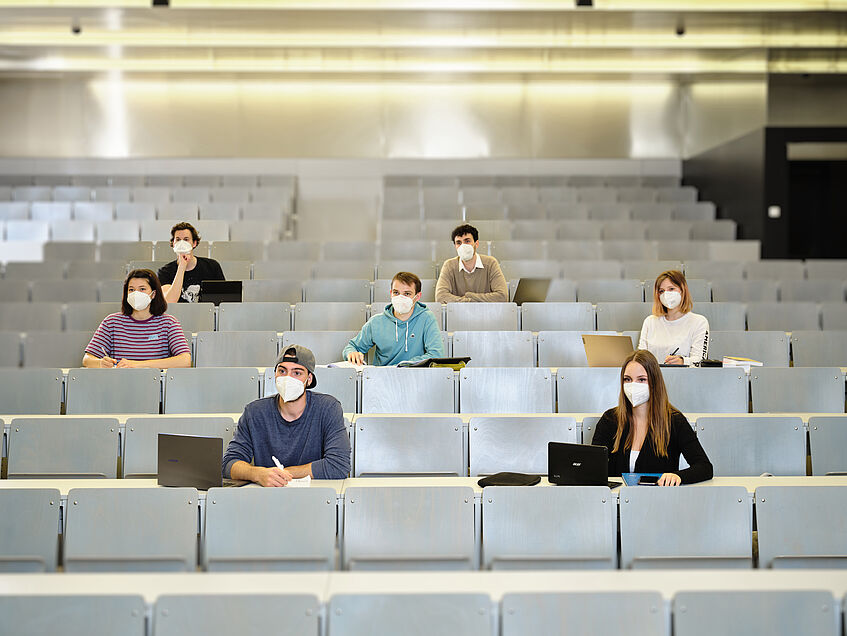 Regulations for your stay at the University
On-site participation only when tested, vaccinated or if you have recovered from an infection
Participants must have been tested or vaccinated, or must have recovered from a COVID-19 infection (antigen rapid tests are no longer accepted) to be able to attend on-site courses and exams.
We recommend only using reading areas, study spaces and Student Spaces for study groups, etc. if you have been tested, vaccinated or have recovered from a COVID-19 infection.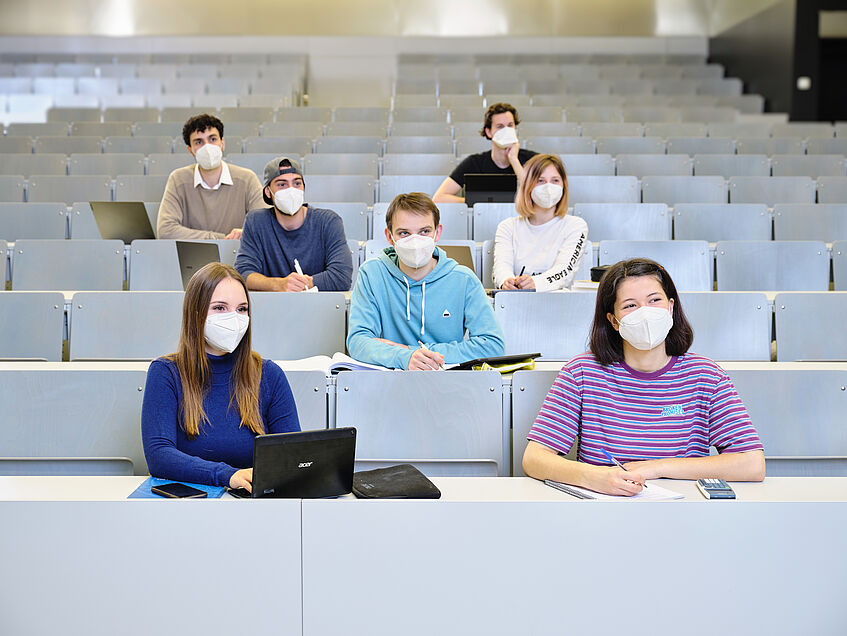 Checklist: Before the course/exam
Check the format of the course (

digital

,

hybrid

or on-site

) on u:find.
Make sure that you have valid evidence of being tested, vaccinated or have recovered from an infection. (

valid types of evidence

- antigen rapid tests are not accepted).
Go to u:space and check whether you are duly

registered

for the course/exam.
Check your Webmail account as well as Moodle to see if there are any

short-term changes

regarding the relevant course/exam.
For courses that take place on site, students may have to

announce via Moodle

that they really wish to attend the course on site (and not online).
Do not forget to bring

your

FFP2 face mask

;
valid evidence of being

tested, vaccinated or have recovered

(use the "Green Pass" App and keep a

printed copy

with you);
a valid official

photo identification card

(e.g. u:card);

headset

,

laptop

with microphone,

charger

and if possible

spare battery

and

hand sanitiser

.
Seat number record for courses/exams (mandatory)
The seat number record allows you to reconstruct which seats you used in which lecture hall and when. It also applies to workplaces in the laboratory. Please maintain this list regularly and thoroughly. It serves to protect yourself as well as others.
Ih you are infected with COVID-19 and have been present at lectures or exams at the university, contact the University of Vienna and provide us with the information from your seat number record.
Seat Number Record Template (Word-Document)
Vienna University Library (UB):
If you want to use the on-site services of the Vienna University Library, please consult the Vienna University Library to obtain information about the applicable rules.
Places for Studying on site
Certain rooms at the University of Vienna can currently be used to a limited extent, subject to the applicable COVID-19 hygiene rules and rules of conduct. Due to the minimum distance requirement, the number of available study places is limited. You may have to register in advance or reserve a seat.
Information about the Student Spaces: Please register in the Student Spaces by scanning the QR codes on site.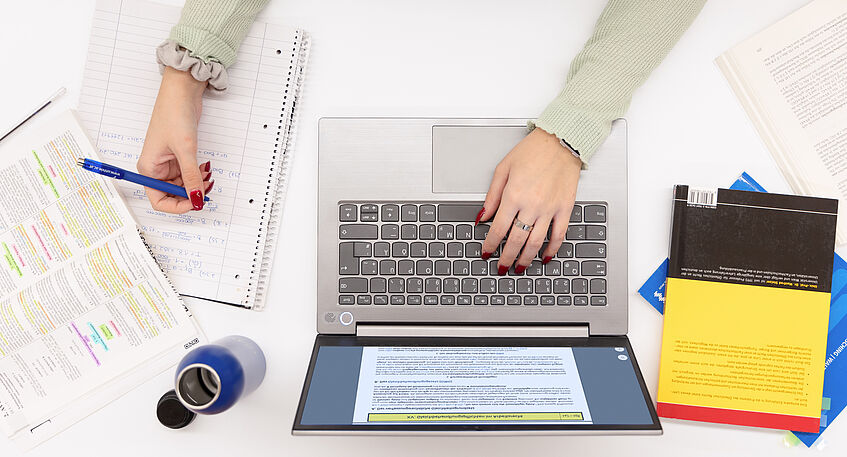 FAQs Organisation of studies
What COVID-19 rules for university operations apply for the winter semester 21/22?
When are the university buildings open to the public?
"Tested, vaccinated, recovered" - What is accepted evidence of a low epidemiological risk according to the ordinance in Vienna?
As a student, do I have to wear a face mask in the university buildings?
I cannot wear a face mask for health reasons. What should I do?
What should I do if I am suspected to have contracted COVID-19?
How do courses/exams currently take place?
Can I currently use the services provided by the Language Centre, Uniport or USI?
How and where can I find reliable information about COVID-19?
Where can I find the opening hours of the Vienna University Library and what rules apply regarding the lending service?
What information and guidance are available about studying for persons with impairments, persons facing travel restrictions, persons who have to self-isolate, etc.?
FAQs courses, exams and submissions
I have an impairment and have to bring one or two assistants to the course with me. Is this possible?
I cannot come to the University to attend a course/sit an exam (risk groups, quarantine, entry restriction). What should I do?
I have a problem with a course or exam date. What can I do?
FAQs International
As an exchange student, what do I have to consider?