International Legal Studies (Master)
New Programme starting with winter semester 2022/23!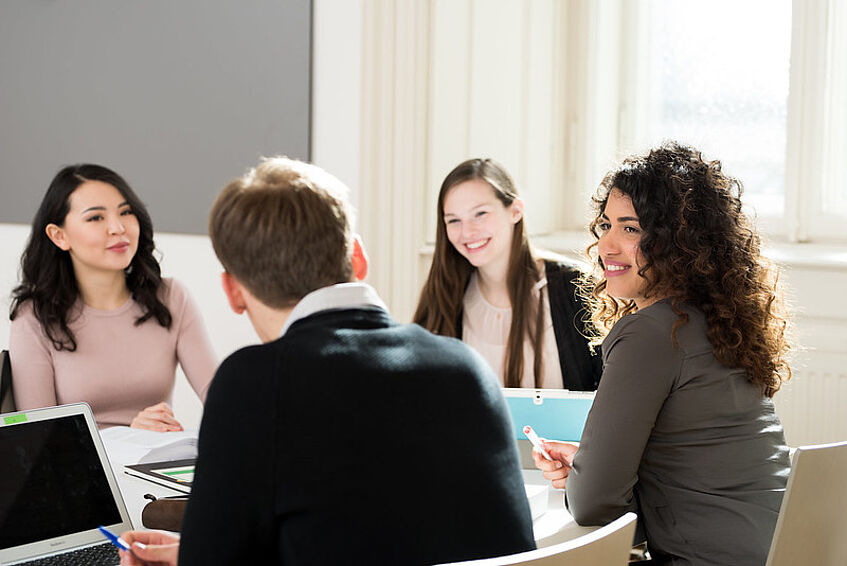 The bachelor's and master's programmes in International Legal Studies prepare students for a career in traditional legal professions. The focus is on international law and international as well as cross-border issues. As courses are held in German and English, the bilingual degree programmes prepare students for a career in international legal practice.
Based on a relevant bachelor's programme, the master's programme in International Legal Studies aims to prepare students for a career in traditional legal professions and other legally oriented occupational areas.
In addition to a comprehensive education in the field of law, this programme particularly aims to equip students with the ability to address legal challenges in a globalised world. Therefore, the programme focuses on issues of cross-border relevance and includes a large number of courses held in a foreign language.
Upon completion of the master's programme, graduates can pursue a career in any legal profession: in advocacy, justice, notary's offices, companies, NGOs, administration, etc.
Master of Law
Degree Programme Code: tba
4 semesters / 120 ECTS credits
Language: bilingual (German & English)
NO entrance examination
This programme is starting with the academic year 2022/23.
The curriculum of this degree programme is currently in the process of being approved. The degree programme can only be offered once the curriculum has entered into force.
Attention
Instruction Language German
What can I expect from the degree programme?
What can I do after graduation?
Study Programme
The degree programme comprises the modules Comparative Law, Legal and Political Philosophy, Labour Law and Law of Social Security, Law of Civil Procedure, Tax Law, Economic Competence in Law and one elective module. To complete the master's programme, students have to write a master's thesis and successfully complete the master's examination.
Students are advised to study a semester abroad. You can find further information about the mobility programmes offered at the University of Vienna on the website of the International Office.
Five Concepts
which you will deal with during your studies (examples):
Comparative Law
Legal Economy
Civil Procedure
Public Finance
Legal Philosophy
... and many more.
Graduates are fit for a European and international future. Graduates have an academic practical pre-education in the field of law. In combination with further education and training, if applicable, they are qualified to work in a legal profession. They have profound knowledge of the subject areas covered by the degree programme. They have legal expertise based on case studies and norms and are able to reflect on the intellectual, societal and economic foundations of law, enabling them to respond to legal challenges in a rapidly changing world. Furthermore, they are able to thoroughly investigate complex legal issues in an academic study carried out independently. In addition, they are particularly qualified to solve cross-border legal issues and to succeed in an international professional environment.