Molecular Microbiology, Microbial Ecology and Immunobiology (Master)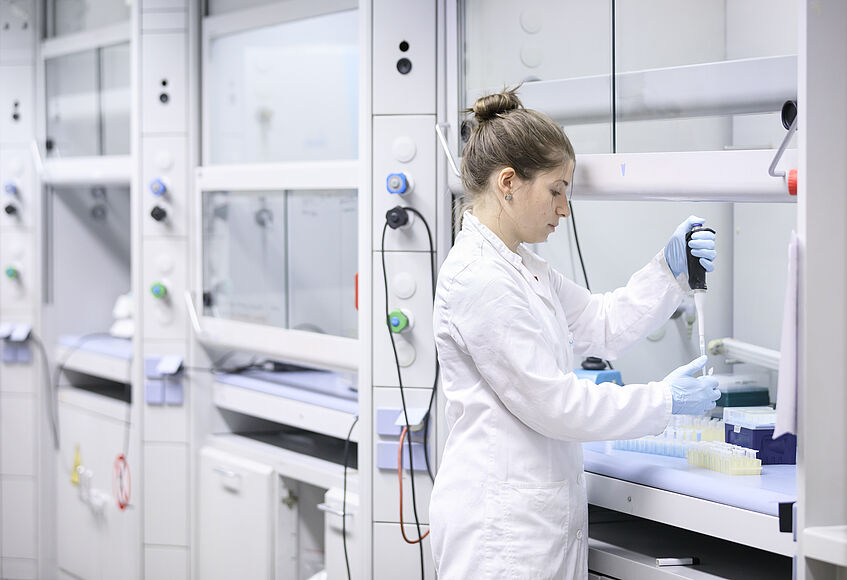 The English-language master's programme in Molecular Microbiology, Microbial Ecology and Immunobiology aims at equipping students with profound knowledge, experimental skills and academic competences in the fields of molecular microbiology, microbial ecology and immunobiology.
Master of Science
Degree Programme Code: 066 830
4 semesters / 120 ECTS credits
Language: English
NO entrance examination
Study Programme
The degree programme consists of the following modules: Biochemistry, Molecular Structural Biology, Molecular Cell Biology, Molecular Medicine, Neurosciences, Molecular Biology, and Additional Scientific Skills for Biologists. In addition, students have to write a master's thesis and pass a master's examination.
Five Concepts
which you will deal with during your studies:
Genetic engineering
Metabolomic research
Metagenomic research
Pathogenesis
Gene expression
... and many more.
Overview of the programme structure & topics
Here you find the current offer of courses for this programme to gain better insight into the topics and structure. For more information please click on the respective level.
Graduates can pursue a career in the following occupational fields:
academic career in private and public higher education and research institutions (in the fields of chemistry, biology, or medicine with a focus on biochemistry)
research activities and career in a clinical setting (e.g. genetic medicine, medical and biological fields of basic research, clinical research, as well as therapy design)
chemical and pharmaceutical laboratories and biotechnology (from start-ups to large-scale industry)
public administration in the fields of chemistry, environment and medicine (e.g. risk assessment, genetic engineering and infection biology)
product development (development of therapeutics and diagnostics), production and quality control in the chemical and pharmacological industry
product management for chemical, biomedical and pharmaceutical companies
high resolution molecular biological and chemical analysis, clinical and environmental diagnostics (industry, clinics, private companies)
patent sector (national/international organisations and companies).
Graduates' Perspective on the Degree Programme
Graduate Survey
The University asks graduates to provide their opinion about the degree programme immediately after graduating. The survey results show how graduates evaluate the degree programme they completed from a subject-specific and organisational perspective.
The graduate survey is an important feedback tool for continuously improving the quality of studies.
Career Tracking of Graduates
The tracking of graduates provides information about the career paths of the University of Vienna graduates and aims at providing guidance for career entry after graduation (e.g. questions about the duration of job search until first employment after graduation, salary development and sectors that graduates are active in).
3 years after graduation ...
70%

of graduates residing in Austria are

gainfully employed

.
graduates

earn

approx.

€ 3,090

gross/month.

24%

of graduates work in the scientific research and development (non−university) sector.

*You can find precise information on implementation, evaluation and use as well as further data for this degree programme in the graduate tracking "MA Molecular Biology".