Our offers and projects
On this page you will find current offers and projects from "School meets Uni" as well as from other institutions of the University of Vienna, which are aimed specifically at pupils, teachers and school classes as well as at those students, who have recently started their studies at the University of Vienna:
School meets Uni - Our offers for school classes
The project "School meets Uni" offers school classes the possibility to visit the University of Vienna and to experience it first hand. In one-hour info presentations we provide a general overview of the differences between school and university, on our degree programmes and the admission procedure at the University of Vienna.
On request, we can organise guided tours through the Main Building of the University of Vienna. The guided tours cost €35 per school class, whereby the maximum number of participants is approximately 30 people.
In addition, the library of the University of Vienna offers free guided tours especially for school classes. You can book a library tour at the following website:
https://bibliothek.univie.ac.at/schuelerinnen-fuehrungen.html
Are you interested in one of our presentations for school classes?
Send us an e-mail to: schule-trifft-uni@univie.ac.at
Do you want to be kept up-to-date regularly with current information?
Click here to subscribe to our newsletter (available only in German language)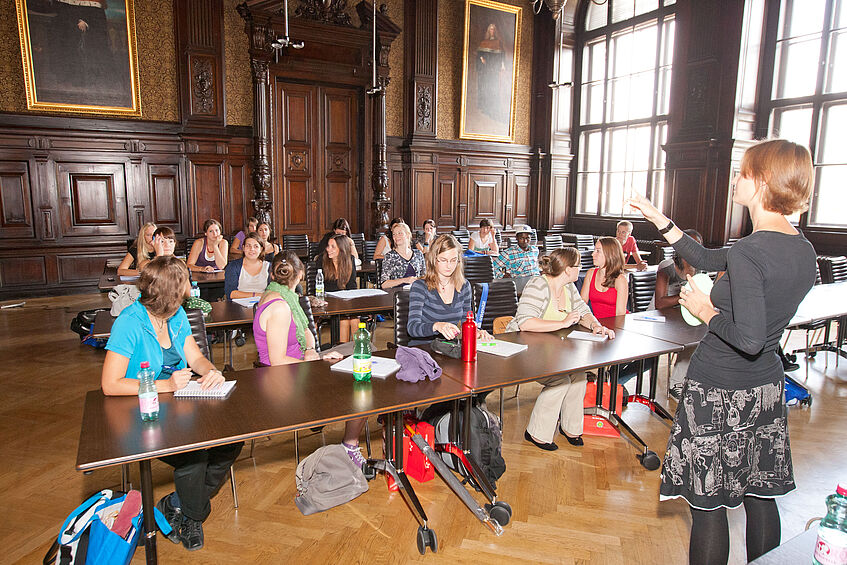 Dr. Hans Riegel prizes
The University of Vienna and the charitable private foundation Kaiserschild award the Dr. Hans Riegel prizes.
The prizes are awarded to pupils in their final school year for the three best prescientific papers in each of the following subjects: Biology, Chemistry, Geography, Computer Science, Mathematics and Physics. The prescientific papers are evaluated by a jury of university professors of the University of Vienna.
All pupils of General Secondary Schools (AHS) in Vienna are free to participate.
Submission period: from 20 March 2020 to 20 April 2020
Click here to know more (in German)
Youth Science Competition of the University of Vienna
In the Youth Science Competition the University of Vienna is looking for young and original answers to seven major questions which are currently concerning our society:
How will we work tomorrow? What unites Europe? How can we save the climate of our planet? How much does democracy mean to us? Health from the lab - what is possible? How are we living in tomorrow´s digital future? How does migration change Europe?
Pupils from grade 9 onwards who attend a school in Austria were allowed to participate. The answer to one of the questions had to be provided in the form of a written scientific paper.
Click here to know more (in German)
Further offers for pupils and school classes at the University of Vienna
Grüne Schule at the Botanical Garden
Who knows the trick of the lotus blossom? What does a living fossil look like? Where does Vienna's biggest bamboo grove grow?
The Botanical Garden of the University of Vienna offers school classes a unique opportunity to experience nature and explore plants in the middle of the city.
The aim of the project Grüne Schule (Green School) is to give pupils an understanding of the fascinating world of plants. Guided tours and workshops stimulate the interest in researching and exploring nature. Expertise, stunning details and inspiring histories as well as the didactic mediation take centre stage - an exciting and adecuate provision of knowledge for our young generation.
Click here to know more (in German)
Try out Theology
What are theological studies actually about? How is the degree programme run and which career opportunities exist?
Your individual open day at the Faculty of Protestant Theology allows for these and other questions and enables you to experience university at first hand. You will get the chance to attend lectures, talk to students and teachers and get to know the library and faculty.
For questions or your registration, send us an e-mail to uniluft.etf@univie.ac.at.
Click here for more information and the flyer (in German).
Mathematik macht Freu(n)de
Mathematik macht Freu(n)de is a cooperation project of the University of Vienna and the University College of Teacher Education Lower Austria. It aims at developing and testing best practices on the training of maths teachers and the use of teaching methods, with the development of accessible high-quality teaching materials playing an important role.
The project offers a variety of support formats. During the holidays, particularly well-qualified prospective maths teachers train small groups of adolescents to get prepared for their final exams at school or their academic studies in the MINT sector. For pupils with a special interest in maths, preparation courses for the Mathematical Olympiad are offered and the participation in the international mathematical team competition NÁBOJ is organised.
Click here to know more (in German)
Uni Insights