What is ISU?
ISU is a support service offered by the University of Vienna for disabled and neurodivergent students as well as for students with chronic and mental illnesses.

Students with impairments can receive individual support from students enrolled on the teacher education programme who are specialising in Inclusive Education (focus on impairments) at the University of Vienna.
What is the goal of ISU?
The big goal of ISU is to ensure equal opportunities in higher education and at the same time, ISU aims at strengthening social interaction and the sense of community at the University.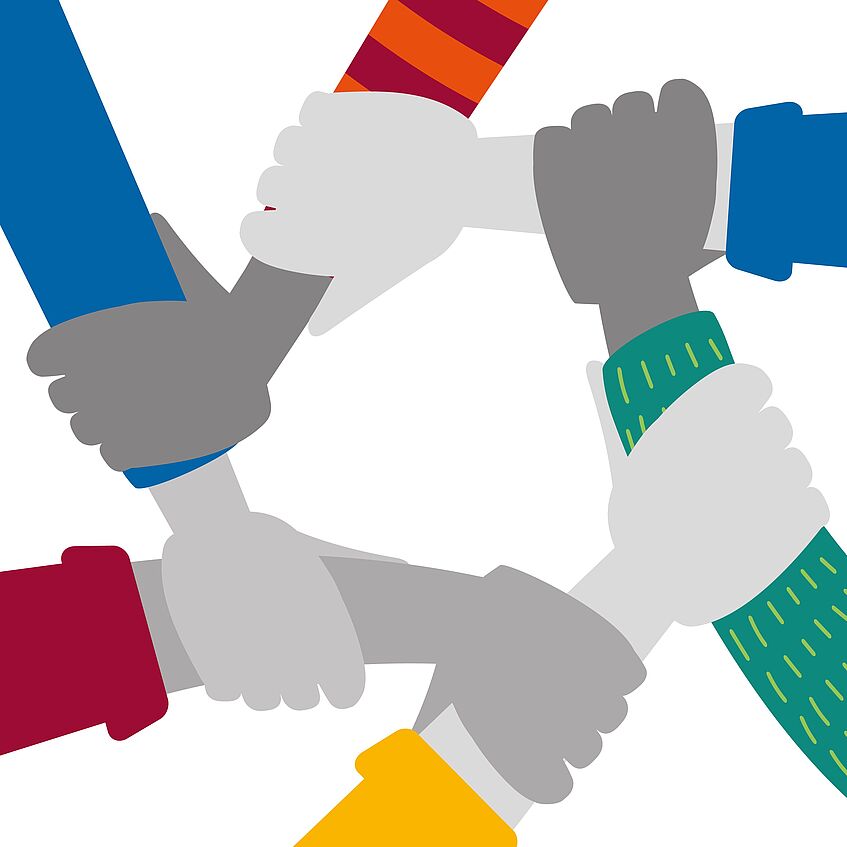 Target group
Students of the University of Vienna,
who receive personal assistance in everyday life, but it is not sufficient for their studies (content knowledge, time, etc.).
and/or
who encounter barriers in their studies despite accessibility measures.
and/or
in general, persons who experience a disadvantage in their studies due to e.g.:

mental impairments
physical or motor impairments
sensory impairments
chronic illnesses
autistic perception
reading and spelling difficulties
ADS/ADHS
acute, injuries, consequences of accidents
Long-Covid
How can ISU help?
Examples
Study supporters can assist participants in the following areas:
Study planning and study organization
Development of learning strategies and optimization of one's own time management
Coping with everyday life at the university
Communication with teachers, fellow students and other people at the university
Preparation of transcripts
Preparation of accessible materials relevant to studies
Support with gross motor and/or fine motor activities
Accompaniment from/at/to courses and exams
Orientation assistance at university locations
and further individual, study-relevant support activities
Procedure
Application form:


Send us the completed application form (see information under "Application") within the application period.



Application check by the ISU coordinator:


After we have checked the information you provided, we will notify you if you have been accepted to the ISU programme.

Please note:
Due to organisational reasons, we can only give you a

final confirmation

of the persons providing individual study support

after the registration period for courses has ended.

The final assignment depends on the demand and on the competence of the persons providing individual study support.


Participation in the matching event:
During a joint

matching event

, you will be assigned to your ISU supporter. You can get to know each other, exchange contact details and arrange a first appointment. This matching event serves the purpose of quality assurance and aims to enable a smooth beginning of the individual study support. Therefore,

participation

in this matching event is

mandatory

.



Exceptions

: Depending on the individual needs, this matching procedure is not always necessary (e.g. if you require transcription, visualisation). In addition, persons who cannot participate in the matching event due to their impairment are also exempt (e.g. illness, episode, treatment, etc.). If this applies to you, please notify us as soon as possible by sending an e-mail to isu

@

univie.ac.at.

Furthermore, the persons providing ISU support and the persons receiving ISU support must participate in a mandatory face-to-face meeting or alternatively, in exceptional cases and/or depending on individual needs, in a meeting via video and/or telephone call in which they discuss their further cooperation.

Moreover, students receiving individual study support agree to participate in a joint supervision to evaluate the ISU support and further agree that ISU is accompanied by evaluation research.
---
Please note:

If you intend to bring persons providing ISU support to a course, you have to inform the lecturers/examiners about it in advance. This is the only way to guarantee that sufficient seats/workplaces are available in accordance with the maximum capacity of the room and to ensure compliance with fire safety regulations.
Information: If you are interested in providing individual study support, you can find information for (prospective) teacher education students on the Inclusive Education website.
Medical certificate
To participate in the individual study support (ISU) programme, the University of Vienna requires a medical certificate specifying how your impairment manifests and how it affects your studies.
Please note the general information about medical certificates (in German) required by the University of Vienna.
Application
To apply for ISU support, please take the following steps
Complete the application form.
When completing the form, you are asked to upload at least

one medical certificate

as proof of your impairment(s) (see below).
If you have already submitted a medical certificate to the Accessible Studying Team, you do

not

have to submit the medical certificate again. In this case, please upload an empty file or a random image. Otherwise, you cannot submit the application form
Optionally and if available, you can also upload information about

support services that you have been granted or denied,

such as personal assistance by other institutions.
If you have difficulties completing and/or uploading the application form or if you have general questions about ISU, please contact us at isu@univie.ac.at.
Dates and Deadlines
Application period – summer semester of 2023:
Until 21 February 2023 – 23:59
Waiting list:


You can apply also after the end of the application period.
In this case, applicants receive a

place on the waiting list

and are notified as soon as a person providing individual support becomes available.
Matching events in the summer semester of 2023

:
Wednesday, 1 March 2023 – 18:30 to 19:45
2nd date:
Wednesday,

8 March 2023 – 18:30 to 19:45




You will receive an e-mail containing information about the person assigned to you, the venue and directions.
Please note:
All participants

have

to

attend

the matching event and this is only possible if you have been invited by the ISU coordinator.
Exemption: If you are ill, please send us a medical certificate as a confirmation.